JBC Is Now Available for Trading on LBank Exchange
Road Town, British Virgin Islands–(Newsfile Corp. – May 4, 2023) – LBank Exchange, a global digital asset trading platform, has listed JBC on May 4, 2023. For all users of LBank Exchange, the JBC/USDT trading pair is now officially available for trading.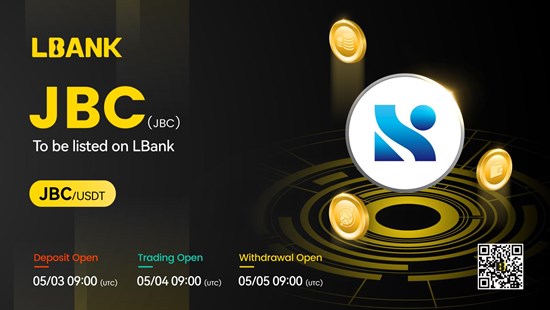 JBC Listing Banner
To view an enhanced version of this graphic, please visit:
https://images.newsfilecorp.com/files/8831/164824_d72bf684d47c291c_001full.jpg
As a unique advertising platform leveraging the power of blockchain technology, JB GROUP presents a novel idea in mobile earning and community sharing. Its native token JBC has been listed on LBank Exchange at 9:00 UTC on May 4, 2023, to further expand its global reach and help it achieve its vision.
Introducing JB GROUP
With the development of modern technology, people are increasingly embracing digital payment methods for their everyday transactions as the globe transitions to a cashless society. However, the existing loyalty programs for these payment methods often fall short regarding flexibility and accessibility.
Because of its unique post-paid advertising pricing model, JB GROUP is a unique platform that stands out from other loyalty programs. This platform allows customers to purchase things while simultaneously obtaining benefits like mileage and points. Every time a consumer makes a purchase, they can earn 1.5% mileage and 1.5% points. The miles and points can be redeemed at a variety of businesses countrywide, including dining establishments, coffee shops, medical facilities, and more.
JB GROUP aspires to revolutionize the advertising sector by introducing a one-of-a-kind post-paid advertising fee platform catering to the needs of small business owners who face difficulties in reaching their desired audience. It aims to give merchants the resources they need to grow their businesses while providing consumers with a convenient shopping experience and rewards.
There are a number of ways in which JB GROUP helps to advertise their products. The first and widely used method is Internet advertisements, which can appear on frequently frequented websites and social media platforms. This can help merchants to target particular customer audiences based on their hobbies, location, and demographics.
Regular classifieds, which are frequently accessible in regional newspapers or internet marketplaces, are an additional option. This approach, which is a more conventional style of advertising, can be appropriate for businesses that are targeting a particular region.
The JB GROUP platform also provides post-paid advertising support to merchants that reach a certain sales threshold, in addition to these advertising options. For example, if a retailer averages 1.5 million won in daily sales, the foundation will fund 30% of those sales, or 300,000 won, through marketing. By offering this support, the platform hopes to assist merchants in promoting their brands and drawing in more clients.
By offering a transparent and accessible platform, JB GROUP will transform the mindset of people towards incentives and advertising, establishing the foundation for an era when everyone benefits from this innovative ecosystem. As it expands and enhances its platform, JB GROUP will collaborate with more businesses and clients to build a robust and thriving neighborhood economy.
About JBC Token
JBC is the native token of JB GROUP ecosystem. It can be used for payment, and allows users to access exclusive content and discounts from merchants and small businesses, helping them save money and discover new products and services. It's also used in loyalty program to earn and redeem rewards at any participating merchant.
Based on ERC-20, JBC has a total supply of 5 billion (i.e., 5,000,000,000) tokens. It has been listed on LBank Exchange at 9:00 UTC on May 4, 2023, investors who are interested in JB GROUP can easily buy and sell it on LBank Exchange right now. 
Learn More about JBC Token:
Official Website: https://www.jbct.net
About LBank
LBank is one of the top crypto exchanges, established in 2015. It offers specialized financial derivatives, expert asset management services, and safe crypto trading to its users. The platform holds over 9 million users from more than 210 regions across the world. LBank is a cutting-edge growing platform that ensures the integrity of users' funds and aims to contribute to the global adoption of cryptocurrencies.
Start Trading Now: lbank.com
Community & Social Media:
l Telegram
l Twitter
l Facebook
l LinkedIn
l Instagram
l YouTube
Contact Details:
LBK Blockchain Co. Limited
LBank Exchange
[email protected]
[email protected]

To view the source version of this press release, please visit https://www.newsfilecorp.com/release/164824