LBank Exchange Will List Metaverser (MTVT) on February 7, 2023
Internet City, Dubai–(Newsfile Corp. – February 6, 2023) – LBank Exchange, a global digital asset trading platform, will list Metaverser (MTVT) on February 7, 2023. For all users of LBank Exchange, the MTVT/USDT trading pair will be officially available for trading at 13:00 UTC on February 7, 2023.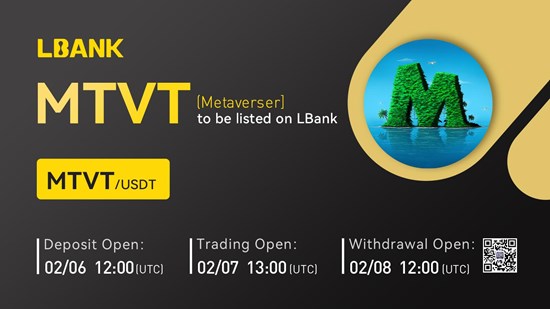 MTVT Listing Banner
To view an enhanced version of this graphic, please visit:
https://images.newsfilecorp.com/files/8831/153692_f25ebc5be477cba9_001full.jpg
As the first multiplayer open-world blockchain game where users can play with a 3D character based on their features, Metaverser (MTVT) integrates various play-to-earn models in order to power the project and expertly mix the finance and gaming world. Metaverser has provided LBANK with a building inside its Crypto Valley, the pinnacle of Metaverser. Its native token MTVT will be listed on LBank Exchange at 13:00 UTC on February 7, 2023, to further expand its global reach and help it achieve its vision.
Introducing Metaverser
Metaverser is a virtual world that enables users to have fun while playing inside its metaverse. The game mixes the world of finance and gaming.
Gamers will have more control by adding real-world value to their online entertainment. They can participate in the game challenges, earn MTVTs and NFTs, and sell them at the marketplace and cryptocurrency exchanges. Assets are minted as NFTs and can be often traded on platforms outside the game's universe.
In Metaverser, users can create their own avatars based on their features. 
In addition to avatars, by having lands and houses in the Metaverser, users can have access to exclusive content. They can also have different experiences, host events, and invite friends.
The magic of Metaverser is that whales are not the only winners in the game. Only the gamers with the right strategy and a certain amount of luck can get the final victory. Gamers can travel in the game using ports, train stations, and airports, and complete missions alongside fulfilling their sense of curiosity in the process. Whether users are serious card players or DeFi enthusiasts, they can find their own happiness in Metaverser.
About MTVT Token
MTVT is the native token of Metaverser ecosystem. The presence of people in Metaverser will require its audience to have a certain minimum amount of MTVT in their wallets. And different services will get provided in Metaverser, which also requires MTVT tokens to purchase these services. By having the earned NFTs and selling them in the Marketplace, users can earn MTVT. In addition, they can also earn MTVT directly by participating in specific challenges in Metaverser.
Based on BEP-20, MTVT has a total supply of 1,994,342,500 tokens, of which 15% is allocated for staking pool, 15% is allocated for mining pool, 15% is provided for in-game incentives, 10.75% is provided for the treasury, 10% will be used for marketing, 10% is provided for seed sale, 0.5% is provided for public sale, 13.75% is allocated to the team, 5% is allocated to advisors and affiliates, and the remaining 5% is provided for liquidity management.
MTVT token will be listed on LBank Exchange at 13:00 UTC on February 7, 2023, investors who are interested in the Metaverser investment can easily buy and sell MTVT token on LBank Exchange by then. 
Learn More about MTVT Token:
Official Website: https://metaverser.me
Telegram: https://t.me/metaversergame
Twitter: https://twitter.com/metaversergame
Instagram: https://www.instagram.com/metaversergame/
Facebook: https://fb.me/metaversergame
YouTube: https://www.youtube.com/channel/UCLbRiQZBX7ufSV9SKDZZhYg
About LBank
LBank is one of the top crypto exchanges, established in 2015. It offers specialized financial derivatives, expert asset management services, and safe crypto trading to its users. The platform holds over 7 million users from more than 210 regions across the world. LBank is a cutting-edge growing platform that ensures the integrity of users' funds and aims to contribute the global adoption of cryptocurrencies.
Start Trading Now: lbank.com
Community & Social Media:
l Telegram
l Twitter
l Facebook
l LinkedIn
l Instagram
l YouTube
Contact Details:
LBK Blockchain Co. Limited
LBank Exchange
[email protected]
[email protected]

To view the source version of this press release, please visit https://www.newsfilecorp.com/release/153692