LBank Exchange Will List D-SHOP (DP) on April 20, 2023
Road Town, British Virgin Islands–(Newsfile Corp. – April 20, 2023) – LBank Exchange, a global digital asset trading platform, will list D-SHOP (DP) on April 20, 2023. For all users of LBank Exchange, the DP/USDT trading pair will be officially available for trading at 8:00 UTC on April 20, 2023.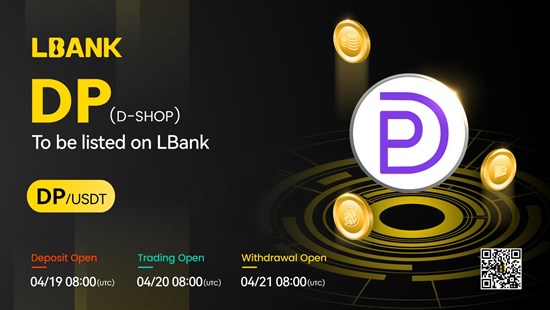 DP Listing Banner
To view an enhanced version of this graphic, please visit:
https://images.newsfilecorp.com/files/8831/162832_8b762c579482491b_001full.jpg
Presenting a new vision of the beauty ecosystem, D-SHOP (DP) leverages the power of blockchain to break away from the traditional payment method and offer more benefits to its consumers. Its native token DP will be listed on LBank Exchange at 8:00 UTC on April 20, 2023, to further expand its global reach and help it achieve its vision.
Introducing D-SHOP
D-SHOP (DP) wants to build an ecosystem that links offline stores, online platforms, and blockchain to support solutions that designers can brand themselves, take profits as a private business, and improve their working environment.
Currently, the beauty industry is using traditional payment methods. DP breaks away from this classic payment method by using the blockchain system to provide payments and rewards.
In addition, by establishing an offline sharing platform called D-SHOP and a practical token ecosystem within the online platform, DP will support the branding, promotion, and marketing of small businesses, and will enable continuous and permanent customer data management through the online platform.
Presenting a new vision of the beauty ecosystem, DP offers this everyday beauty category more conveniently than it is today with its online and offline platform services, and provides more benefits to consumers operating on the platform with Web3.0's next generation consumer marketing.
About DP Token
DP is the native token of the D-SHOP ecosystem. It plays the role of key currency on the DP platform, available as a form of payment for transaction fees and charges for various other services in the DP ecosystem. DP Token's holders can also propose and vote on key issues managing the DP platform (reward rate, issues on the platform's main direction, etc.) in addition, managers registered on the D-SHOP platform can open FAN clubs using DP Token acquired through various channels.
Based on Klaytn network, DP has a total supply of 1 billion (i.e., 1,000,000,000) tokens, of which 20% is allocated for the ecosystem, 28% will be used for marketing, 10% is reserved, 12% is allocated to the team, 10% is provided for token sale, 5% is allocated to partners, and the remaining 15% is provided for R&D.
DP token will be listed on LBank Exchange at 8:00 UTC on April 20, 2023, investors who are interested in D-SHOP can easily buy and sell it on LBank Exchange by then. 
Learn More about DP Token:
Official Website: https://dptoken.io
Telegram: https://t.me/DPtokenOfficial
Twitter: https://twitter.com/dshopofficial
Instagram: https://www.instagram.com/designershopofficial__/
Medium: https://medium.com/@dptokenofficial
About LBank
LBank is one of the top crypto exchanges, established in 2015. It offers specialized financial derivatives, expert asset management services, and safe crypto trading to its users. The platform holds over 9 million users from more than 210 regions across the world. LBank is a cutting-edge growing platform that ensures the integrity of users' funds and aims to contribute to the global adoption of cryptocurrencies.
Start Trading Now: lbank.com
Community & Social Media:
l Telegram
l Twitter
l Facebook
l LinkedIn
l Instagram
l YouTube
Contact Details:
LBK Blockchain Co. Limited
LBank Exchange
[email protected]
[email protected]

To view the source version of this press release, please visit https://www.newsfilecorp.com/release/162832