Onewiex CEO Shares Insights on the Company's Future Plans in Exclusive Video Interview
Toronto, Ontario–(Newsfile Corp. – April 12, 2023) – Oliver Wilson, the CEO of Onewiex, recently spoke in a comprehensive interview, where Wilson shared insights on the company's future plans and roadmap. During the interview, Wilson revealed the unique trading strategy employed by Onewiex. Wilson said, "We're all about innovation and new technology when it comes to our trading strategies. In addition to technical and fundamental analysis, we even use quantum computing to find positions in the crypto market."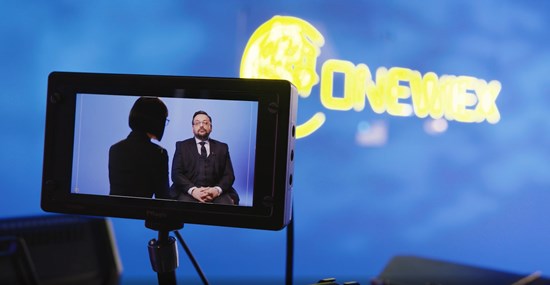 Figure 1
Wilson expressed confidence in the team's experience and knowledge in the field of cryptocurrency trading. Wilson explained that this allows the team to develop new strategies and adapt to market changes. Wilson stated, "More and more companies are seeing crypto as a potential way to protect their savings and investments."
During the interview, a wide range of topics was discussed, including the security measures implemented by the company. Wilson explained that all accounts are synchronized with financial registers of financial regulators and are monitored by the national security agencies of Canada. Also, the company is in the final stages of obtaining licenses in UAE, which Wilson describes as "the main financial hub for cryptocurrency in the world at the moment." It is expected that the company will open an office there this summer.
Additionally, Mr.Wilson revealed the company's expansion plans, which include opening offices in China. 
Additionally, the company has made significant strides in document processing and will soon add support for major credit cards, allowing for lower fees and easier access to the platform.
Wilson made a significant announcement during the interview, stating that the company will host its first major conference in Southeast Asia in May. The conference is dedicated to the development of Onewiex and the opening of the large Chinese market. Wilson added that the company plans to hold 10 conferences by the end of 2023.
When asked about the company's future plans, Wilson said, "We want to continue to be a leading force in the financial industry, providing innovative and cutting-edge financial solutions to our clients."
About Onewiex:
Onewiex is an international trading company powered by blockchain that provides a wide range of financial services in the field of trading in the Forex markets and cryptocurrency exchanges, as well as quantum trading with elements of asset management and wealth management for individuals and legal entities.
For more information, please contact manager at [email protected] or visit https://www.onewiex.com.
Telegram: https://t.me/onewiex.
Contact Media:
Company Name: Onewiex
Contact Person Name: Jacob Gibson
Email Address: [email protected]
Location: Toronto, Ontario, Canada
Website: https://www.onewiex.com
To view the source version of this press release, please visit https://www.newsfilecorp.com/release/161367