LBank Exchange Will List RENEC on March 29, 2023
Road Town, British Virgin Islands–(Newsfile Corp. – March 29, 2023) – LBank Exchange, a global digital asset trading platform, will list RENEC on March 29, 2023. For all users of LBank Exchange, the RENEC/USDT trading pair will be officially available for trading at 10:00 UTC on March 29, 2023.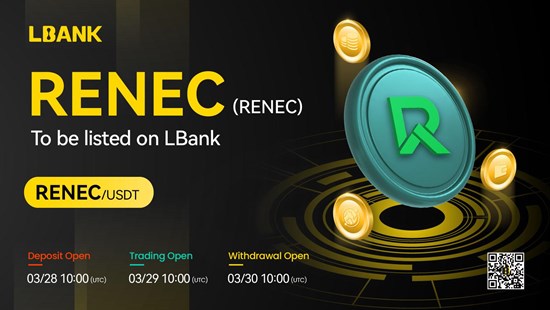 RENEC Listing Banner
To view an enhanced version of this graphic, please visit:
https://images.newsfilecorp.com/files/8831/160363_2a68575144f3c967_001full.jpg


Designed with scalability, safety, reliability, and upgradeability as key principles, RENEC blockchain aims to become the new standard for Web3 infrastructure. Its native coin RENEC will be listed on LBank Exchange at 10:00 UTC on March 29, 2023, to further expand its global reach and help it achieve its vision.
Introducing RENEC
RENEC is a decentralized blockchain platform designed to enable creators to build experiences that provide to the billion users in the Web3 era. Founded in 2021, RENEC blockchain is an open-source project currently run by the RENEC foundation. RENEC's third-generation blockchain architecture is designed to facilitate smart contracts and decentralized application (DApp) creation.
The RENEC genesis occurred on October 14, 2022, with the aim of scaling throughput beyond what is typically achieved by popular blockchains while keeping costs low. It supports thousands transactions per second, which is significantly faster than most L1 blockchains, and features extremely low transaction fee, as close as 0.000005$ per transaction.
Products built on RENEC blockchain include reUSD and Demon Wallet. reUSD is RENEC's new cross-chain solution designed to promote a user-friendly decentralized economy. It's a stable and secure digital asset that offers stability in value, tied to a reserve of popular stablecoins, starting with USDT in the first phase and potentially expanding to include other stablecoins in the near future. This makes reUSD a dependable store of value within the blockchain environment. With high liquidity, reUSD simplifies the exchange process for other cryptocurrencies on the RENEC blockchain or fiat currencies, making it an ideal choice for traders.
Demon Wallet is a crypto wallet dedicated for the Web3 with features including speedy transaction and super low fee. It can be used for interact with RENEC coin and tokens on RENEC blockchain, and users can earn RENEC with a couple of clicks through Demon Wallet.
The RENEC vision is to deliver a blockchain that can bring mainstream adoption to Web3 and empower an ecosystem of decentralized applications to solve real-world user problems. Its mission is to advance the state-of-the-art in blockchain reliability, safety, and performance by providing a flexible and modular blockchain architecture. This architecture should support frequent upgrades, fast adoption of the latest technology advancements, and first-class support for new and emerging use cases.
About RENEC Coin
RENEC is the native coin of the RENEC blockchain. Users can stake by delegating their coins to validators who process transactions and run the network., and by staking RENEC coins, users help secure the network and earn rewards while doing so.
Validators incur costs by running and maintaining their systems, and this is passed on to delegators in the form of a fee collected as a percentage of RENEC coin rewards earned. This fee is known as a commission. Since validators earn more rewards the more stake is delegated to them, they may compete with one another to offer the lowest commission for their services.
RENEC will be listed on LBank Exchange at 10:00 UTC on March 29, 2023, investors who are interested in RENEC can easily buy and sell it on LBank Exchange by then. 
Learn More about RENEC Coin:
Official Website: https://renec.foundation/
Explorer: https://explorer.renec.foundation
Telegram: https://t.me/renecblockchain
Twitter: https://twitter.com/RenecBlockchain
Discord: https://discord.gg/JNvaFP5QCz
Reddit: https://www.reddit.com/r/renecblockchain/
About LBank
LBank is one of the top crypto exchanges, established in 2015. It offers specialized financial derivatives, expert asset management services, and safe crypto trading to its users. The platform holds over 9 million users from more than 210 regions across the world. LBank is a cutting-edge growing platform that ensures the integrity of users' funds and aims to contribute to the global adoption of cryptocurrencies.
Start Trading Now: lbank.com
Community & Social Media:
l Telegram
l Twitter
l Facebook
l LinkedIn
l Instagram
l YouTube
Contact Details:
LBK Blockchain Co. Limited
LBank Exchange
[email protected]
[email protected]
To view the source version of this press release, please visit https://www.newsfilecorp.com/release/160363